22–23–24 November
SPRINT—Independent Publishers & Artists' Books Salon | Milano
2019 | Display + Lecture
A *NEW* PROGRAM FOR GRAPHIC DESIGN, DAVID REINFURT by writer and graphic designer David Reinfurt [NY], 1/2 of Dexter Sinister, 1/4 of The Serving Library, and 1/1 of O-R-G inc. ph―Elena Radice & Enrico Boccioletti
2019 | THE RISO CLUB 19
16—17.11.19 ⧽ THE RISO CLUB 19 guest Eilean Friis-Lund [CH] and Pierrick Brégeon [EUROSTANDARD—CH], in collaboration with Archivio Primo Moroni. Coordination Elena Radice, technical assistance ATTO
2019 | Display + Lecture
A *NEW* PROGRAM FOR GRAPHIC DESIGN, DAVID REINFURT by writer and graphic designer David Reinfurt [NY], 1/2 of Dexter Sinister, 1/4 of The Serving Library, and 1/1 of O-R-G inc. ph―Elena Radice & Enrico Boccioletti
ART BOOK FAIR





DISPLAY





SCREENING





TALK





PERFORMANCE





BILLBOARD





FUNDRAISING





PARTY





WORKSHOP





POSTER/





CATALOGUE



ALL THE EVENTS





ARE FREE





ADMISSION





EXCEPT THE





WORKSHOP





AND THE





FUNDRAISING





PARTY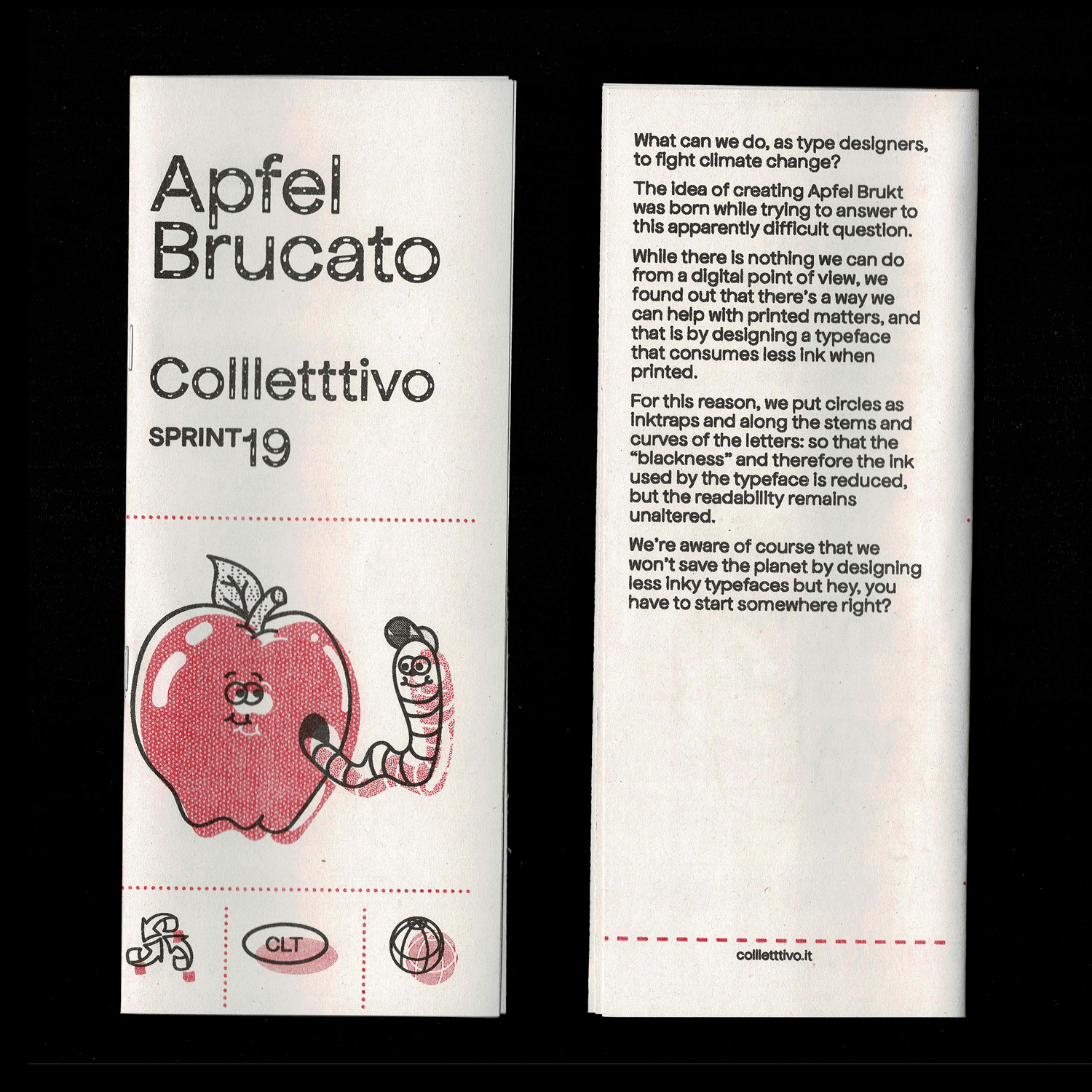 ↪︎DOWNLOAD TYPE



APFEL

GROTEZK

BRUKT

by

Collletttivo



To accompany the theme of sustainability presented at SPRINT19, Collletttivo releases Apfel Grotezk Brukt: the low-carbon-footprint version of Apfel Grotezk, designed by Luigi Gorlero, which allows to save your printer up to 18% of ink.




—

Apfel Grotezk Brukt - is a Collletttivo bespoke project for SPRINT19 and can be downloaded for free at collletttivo.it


—

Collletttivo is an expanding group of designers working on type-based projects and occasionally releasing Open Source typefaces through the platform
This edition is dedicated to La Pecora Elettrica an antifascist bookshop located in Centocelle beighborhood Rome which was recently fire twice by unknown
SMABF19 PUBLISHERS
​
​
– A DANCE MAG Beirut
– ADAMANT Como
– CYNTHIA ALFONSO & ÓSCAR RAÑA [Rapapawn] Vigo SP
– ALTALENA MI
– ALTANA MI
– AMPHIBIA Turin
– ANTHOLOGY EDITIONS NY
– ARCHIVE BOOKS Berlin
– ARCHIVIO MAGAZINE Turin
– ATLAS PROJECTOS Lisbon/Berlin
– ATTO MI
– AVOIDSTREET Amsterdam
– BATT Coop + Guests Paris
– JACOPO BENASSI La Spezia
– blisterZine MI
– BOABOOKS Geneva
– C41 MI
– CHERIMUS Perdaxius
– COLORAMA Berlin
– COMPULSIVE ARCHIVE MI
– ALESSANDRO CRIPSTA Milano
– CTRL Bergamo
– DALE ZINE Miami
– DAY + NIGHT by Josef Reyes NY
– DDOOGG Vancouver
– DE PRESS MI
– DIAVOLA MI
– DIRTY LOOKS NY/LA
– CAMILLA CANDIDA DONZELLA MI
– EDITION FINK Zurich
– EDITIONS DU CAÏD Tavier BE
– ELEVATOR TEETH San Diego
– ENTORSE Paris
– EVERYEDITION Zurich
– ARIEL FINCH London
– FLIP PROJECT Naples
– FOLDER BOOKSHOP MI
– FRANKENSTEIN MAGAZINE MI
– FUZAO STUDIO MI W/ Yuwei Gong ~ Xiao Longhua ~ FPCC - Feminist Pornographic Collective Consciousness ~ Hanyue Zhang ~ 214
– GIULIA GINKGO MI
– GIRLS LIKE US Amsterdam
– GLUQBAR/LUCA MASSARO MI
– HOMIE HOUSE PRESS Milano/Washington DC
– i apologize Marseille
– IL COLORIFICIO MI
– JUNGLE BOOKS St.Gallen CH
– KABUL Turin
– KALEIDOSCOPE MI
– KLD REPRO Copenhagen
– LEONHARD LAUPICHLER Berlin
– LEEBINSOYEON Seoul
– MELMA MI
– MG POSANI/A QUEER CULTURE ILLUSTRATED GUIDE Rimini
– NERO EDITIONS Rome
– NOBODYS MI
– MARVIN G. NWACHUKWU MI
– NXS WORLD Amsterdam
– OCCULTO Berlin
– ONOMATOPEE Eindhoven
– OSSÌ Rome
– pantingo Ghent/Madrid
– PETRIPASELLI | 99objects Bologna
– PRESS PRESS MI
– PROSPER VISIONZ MI
– QUADERNI DELLE PERIFERIE MI
– QUANTO MI
– RAWRAW MI
– DAVID REINFURT NY
– RUSSIAN INDEPENDENT SELFPUBLISHED Moscow W/ Natalia Baluta ~ Olga Bubich ~ Elena Kholkina
~ Alla Mirovskaya
– SALI E TABACCHI JOURNAL Milano/London
– SCARTO by filoferro architetti Florence
– SELF PLEASURE PUBLISHING MI
– SGOMENTO/MucciComics MI
– SIB SIB BOOKS LA
– SKINNERBOOX Jesi
– SOYBOT Wien
– STOLEN BOOKS Lisbon
– TAKECARE Bari
– TAZI ZINE MI
– DAVIDE TIDONI Pertica Alta
– TILE MI
– trial publishing platform Zurich/Beijing
– VERA KING Gdańsk PO
– VESPER Helsinki
– WITTY KIWI Turin
– ZONA LUCE MI
SPECIAL GUEST Collletttivo MI - On Sharing Typography
→ 23/24 NOV 1–9pm | Spazio Maiocchi
VOLUNTEERS
— Federico Bardelli, Elena Bastogi, Martina Bruno, Benedetta Cimadom, Alina Cortese, Erica Curci, Camilla Dalla Buona, Eleonora Deligio, Jasmine Delle Vedove, Federica Di Toro, Giulia Dolla, Giorgia Donnan, Martina Esposito, Gabriele Ferrarini, Simone Franzolini, Martina Galli, Sabina Ganora, Clara Lasagna, Marvin Nwachukwu, Rosita Mahmuti, Alberto Martino, Lucia Mascheroni, Caterina Migliore, Natalia Polvani, Guido Pupulin, Martina Ravelli, Andrea Sabetta, Elisabetta Stocchi, Martina Stomeo, Anna Topasso, Giulia Tosi, Martina Toti, Francesca Varalda, Yanyan Wu, Valeria Zanetti
THANKS TO
— Ilenia Arosio, Maria Elena Badini, Valeria Baudo, Elisa Bozzarelli, Claudia Buraschi, Silvia Carollo, Gabriele Casaccia, Alice Daneluzzo, Annalisa Deligia, Chiara Fumai in SPIRIT, Emma Goldman in SPIRIT, Matias Guerra, Tilly Krebitz, Michele Lombardelli, Lee Lozano in SPIRIT, Susanna Macchia, Giorgio Maffei in SPIRIT, Laura Marino, Giada Montomoli, Melissa Jane Palmer, Alessandra Piolotto, Martina Odorici, RAMM𝝨LZ𝝨𝝨 in SPIRIT, Mirko Rizzi, Roberto, Marika Rock, Nicolò Rossi, Krisztina Sándor, Filippo Salvadori, Barbara Scabini, STANDARDS, Stella Succi, Teatro delle Moire, Giulia Tognon
THE CREW19
An idea by
O' non profit association
​
Curated and designed
by artist Dafne Boggeri
​
Press Office
Piera Cristiani
​
Assistant
Sara Tortolato
​
Risograph Workshop
Coordination
Elena Radice
​
Volunteer Coordination
Susanna Morari
Petra Rocca
​
Photo/Video
Elena Radice,
Enrico Boccioletti
DISPLAY & LECTURE | A *NEW* PROGRAM FOR GRAPHIC DESIGN
DAVID REINFURT NY
​
– This certainly is not a carefully crafted collection of rules, guidelines, and methods intended to shore up graphic design as a relevant discipline. It is inevitably more of a digressive, discursive ramble, an occasionally high-speed pitch across any number of subjects and settings, though never possibly enough. Anyone else, by definition, would do this differently. It's limited, as much by my imagination and by my experience as by the practical constraints of a book. But in its form is also its argument. So let me be explicit: When you've finished 'A *New* Program for Graphic Design', rip it up, throw it away, and get busy assembling your own. Now, let's get started.
​
– David Reinfurt is 1/2 of Dexter Sinister [with Stuart Bertolotti-Bailey], 1/4 of The Serving Library [with Francesca Bertolotti-Bailey, Stuart Bertolotti-Bailey, and Vincenzo Latronico] and 1/1 of O-R-G inc. Dexter Sinister started as a small workshop on the lower east side of Manhattan and has since branched pragmatically into projects with and for contemporary art institutions. The Serving Library publishes an annual journal, maintains a physical collection, and circulates PDF texts through its website. O-R-G is a small software company. David currently teaches at Princeton University and his work is included in the permanent collections of Cooper Hewitt National Design Museum, Museum of Modern Art, Walker Art Center, and the Whitney Museum of American Art. He was the 2016-2017 Mark Hampton Design Fellow at the American Academy in Rome.
​
– David met the public during a talk on his last publication A *New* Program for Graphic Design and the links behind it. The book synthesizes the pragmatic and experimental aspects of pedagogical approaches, from modernism to the end of the 20th century, to transmit the advanced principles of contemporary design - Typography, Gestalt, Interface - to non-specialist audiences. The contents of the book took shape during a lecture-performance [hosted at the IN-FO.CO studio, LA, 2018], in which the author artfully compressed his teaching experience at Princeton University into 3 days of 6 lessons per day of 45 minutes each. The volume, published by Inventory Press LA and Distributed Art Publisher NY, was also be present in the context of SPRINT Art Book Fair [Spazio Maiocchi] | → opening 22 NOV 6–10pm | lecture 7pm | on going • 23/24 NOV 11am–6pm | O' non-profit association
​
​
​
DISPLAY | NEW AESTHETIC by LEONHARD LAUPICHLER Berlin ​
​
– A meticulous research that brings out an emotional anthropology of typography, in which references and codes are elaborated to return to a new emerging, contaminated and liquid landscape in a site-specific installation x Artifact. 'Typography has always been essential to graphic design. Designers do not only focus on making reading as enjoyable as possible, but also intend to create moods, reflect values and aesthetic impressions with their work. Typefaces hold the power to communicate more than just the words and sentences they spell. So far, most high-quality and approved typefaces are mainly issued by Type Foundries. In recent years, especially on social media platforms, the genre of independent typeface design by individual non-professionals has emerged. My bachelor's thesis deals with the curation of typefaces by influential and up-and-coming designers who focus on the aesthetics and emotionally influential power their typefaces hold. NEW AESTHETIC showcases modern typeface design in all its facets; the design is bold, innovative and, most importantly, detached from the conventions of traditional Type Foundries.
​
– A Question Of Feelings — all contributors: Kazuhiro Aihara, Lukas Altmann, Mathilde André, Moritz Appich, Massimiliano Audretsch, Sara Bastai, Sascha Bente, Paul Bergès, Baptiste Bernazeau, Fabio Biesel, Stefano Bona, Sophia Brinkgerd, Benoît Canaud, Tomas Clarkson, Michael Clasen, Brando Corradini, Laura Csocsan, Lucas Desscroix, Moby Digg, Colin Doerffler, Marie Ducrocq, Jules Durand, Sylvain Esposito, Hans Findling, Virgile Flores, Fabio Florez, Fabian Fohrer, Basile Fournier, Léa Fournier, Valentin Garcia, Victor Gérard, Raoul Gottschling, Gunnar Harrison, Laura Hilbert, Tobias Holzmann, Tobias Hönow, Christian Horrer, Jose Houdini, Bruno Jacoby, Erkin Karamemet, Nizar Kazan, Samara Keller, Peter Korsman, Calvin Kwok, Raphaël de La Morinerie, Leonhard Laupichler, Pauline Le Pape, Tien-Min Liao, Thomas Maier, Fabian Maier-Bode, Lena Manger, Emma Marichal, Luca Marsano, Frida Medrano, Adrien Midzic, Yoon Mingoo, Kevin Moll, Mario Naegele, Malin Neamtzu, Sepus Noordmans, Andree Paat, Nolan Paparelli, Luca Pellegrini, Loris Pernoux, Lisa Petersen, Laurent Peteuil, Daria Petrova, Maciej Połczyński, Tatjana Pöschke, Martin Pšyný, Robert Radziejewski, Isabella Ramos Menzel, Kirill Ratman, Rafael Ribas, Javier Rodriguez, Charlotte Rohde, Armin Roth, Erik Sachse, Janik Sandbothe, Johannes Schauderna, Elena Schneider, Bilal Sebei, Tommi Sharp, Daniel Stuhlpfarrer, Aimur Takk, Kia Tasbihgou, Teo Tuominen, Kai Udema, Alex Valentina, Matthieu Visentin, Emilie Vizcano, Stefanie Vogl, Lena Karoline Weber, Tor Weibull, Franziska Weitgruber, Nikolas Wrobel, Heejae Yang, Mingoo Yoon, Isia Yurovsky, Timur Zima, Viktor Zumegen | → 1–9pm | Artifact c/o Spazio Maiocchi
​
DISPLAY | AUSTIN LEE NY
​
– Exhibition & book launch curated by KALEIDOSCOPE | → 23/24 NOV 1–9pm | Spazio Maiocchi
​
​
DISPLAY | BLADE–BANNER by ALESSANDRO DI PIETRO, TANIA GRACE KNUCKEY Genève, VIOLA LEDDI, PETRA ROCCA, MATTEO RUBBI, GIOVANNI ZANDA
​
– Through BLADE–BANNER artists are invited to produce an image all-over inkjet printed in a 1 x 1 m silk fabric module, as a pixel cut from their world. Participation is addressed to Italian artists or artists based in Italy, as a sign of support to the local community. This series of works is a collection, which includes thirty-nine contributions, produced by _\|/_ and showed during the salon, fed every year by new collaborations, with the idea of building a nomadic exhibition that may involve, in the future, more or less institutional sites. The banners exist in two copies, one donated to the author while the other is kept in the collection | → 23/24 NOV 1–9pm | Spazio Maiocchi
​
​
SCREENING | DÓRA MAURER — Aranyok / Proportionen / Proportions, 1979
10', b/n, courtesy INDEX Edition/sixpackfilm
​
– In Proportions Maurer, lying on a long clean strip of paper, uses her own body height as a benchmark, then splits this distance into halves, then quarters. After further labeling the quarters she creates a musical staff based on her own physical proportions and fills in the staff by using her own body as the notes. The essence of ballet and ballet experience is repetition. It is the presented fragment of a process, or the recording and use thereof with simple and minimalistic devices, gestures and crystallized from their context by the means of repetition, thus receiving a specific meaning. Therefore, repetition that provides processes with a rhythm and character appears as choreography and creates sensitivity in the spectator, which makes one perceive fertile tension and beauty springing from the differentiation between elements of repetition and from repetition itself István Antal – courtesy INDEX Edition/sixpackfilm
​
– Dora Maurer 1937, Budapest is a Hungarian artist whose work has spanned a 50-year career. She works in almost every medium, from film and photography to painting, performance and sculpture . Principally achieving recognition in the 1970s with avant-garde work, Maurer has developed her art career from works with contemporary and modern influences that have been shown worldwide. All of her art is based on mathematical and complex system processes. Most of Maurer's work follows the theme of showing options to the viewer and what the viewer can do with those options. Many of her works break down simple actions so the viewer can really view the piece as movement, not a photograph of movement | → 1–9pm • on loop at 1 hour intervals | Spazio Maiocchi
​
​
​
TALK | OSSÌ Romq ~ PORN THIS WAY
​
– We will dive into the new fourth issue of Ossì - 'Nascondino' - which contains a porn story written for the first time by four hands of two lovers, Francesco Pacifico and Francesca Mancini, accompanied by the photos of Michele Baron and a sex playlist by Venerus. Ossì, [like Oh yes!] Is a well-made and self-produced porn journal. In each issue, a story stunted by worlds that we hope really exist and the sexy photos taken by someone you would like to know. Plus, a proper sex playlist. Ossì is the erotic fanzine that is good for our culture and our society. What it takes to accept sexuality as something magnificent, which excites with intelligence and rewards beauty in its broadest sense. Ossì, in fact, is beautiful. Ossì is an idea by Alice Scornajenghi, the graphic project is curated by Francesca Pignataro, editing on texts is by Marzia Grillo | → 23 NOV 2–3pm | Spazio Maiocchi
​
​
TALK | DAVIDE TIDONI Pertica Alta ~ SOUND PIECES AND PUBLICATIONS
​
– The talk will introduce Davide's publications and research on sound, include: Ultras Mashup, an audio work in which football chants' recordings are mixed with the 'original' songs they are based on; Ultras Karaoke, the karaoke version of a series of football supporters' chants interpreted by non-professional singers; The Sound of Normalisation, an ethnography project on the sound culture of the ultras group BRESCIA 1911; Touch of the Pops, a book + audio recordings documenting an eight years long research on balloon pops and the acoustic response they activate; Exaggerated Footsteps, a pair of metal plates to fix underneath your shoes and use as acoustic trigger. All the projects have been published in the last two years. What they all have in common is the attempt to translate sonic and conceptual aspects into coherent and substantial visual/printed forms | → 23 NOV 4–5pm | Spazio Maiocchi
​
​
​
TALK | JOHANNA MAIERSKI ~ COLORAMA Berlin
​
– 'How should i know that this is an advice to be followed and not a warning. When you tell her that you found this book for her, she replies that she has to wind herself up to that level again, and then she disappears for two months.' A talk about: making books is like building a mould for someone to pour their train of thought into - but sometimes you pour back. Johanna Maierski will give a talk about the urgency of being a selfmade duck and collaboration [in general, and in specific in the comic-residency Clubhouse] - how production informs the content of all Colorama titles and what this has to do with a book about constructing houses.
​
– Colorama is a publishing house and risoprinting studio based in Berlin and run by Johanna Maierski since 2015. Colorama is dedicated to collaboration, observation, and production. The publications feature the works of current comic-artists exploring the means of assembling and storytelling | → 23 NOV 6–7pm | Spazio Maiocchi
​
​
TALK | KABUL Turin ~ K-TOUR - VISITORS
​
– VISITORS is the third volume of the series K-POCKET GUIDE published by KABUL magazine. The book is focused on the 'othering' as a discursive process by which dominant groups identify and define subordinate groups as inferior and threatening. Inside the book, Gaia Giuliani, Boris Groys, Thomas Nail, Oleksiy Radynski, Saskia Sassen and Daniel Trilling outline an alternative imaginary against the patriarchal and normative society of contemporary times, in order to promote an inclusive culture and to fight against each discrimination focused on sex, gender, culture and religion. K-POCKET GUIDE is an editorial series with brief books of interviews focused on a particular issue from the contemporary debate about arts and cultures. The books are thought as brief handbooks with texts, interviews and glossaries | → 24 NOV 2–3pm | Spazio Maiocchi
​
​
TALK | COLLLETTTIVO ~ ON SHARING TYPOGRAPHY
​
– Collletttivo is an expanding group of designers working on type-based projects and occasionally releasing Open Source typefaces through their website. Goal of the collective is to create a network of people that challenge themselves to improve through practice and mutual exchange in the very competitive fields of graphics and type design | ↪︎ DOWNLOAD – Apfel Grotezk Brukt, the low-carbon-footprint version of Apfel Grotezk, designed by Luigi Gorlero, which allows to save your printer up to 18% of ink | → 24 NOV 4–5pm | Spazio Maiocchi
​
​
TALK | KRISTIAN B. JOHANSSON ~ KLD Repro Copenaghen
A SUBJECTIVE FRAMING OF PRINTING CULTURE IN MYANMAR
​
– While walking through 31st and 32nd street in Yangon, Myanmar, you quickly notice the sounds of offset-printers and paper-cutting machines working through piles of paper transported through the streets on small wagons. After spending some months on these dense streets you will get some awareness of the printing culture in the once closed country. A culture where originality and perfection seem to be irrelevant and where bootlegging and crooked printing has a huge presence. These components might be seen as primitive and wrong but maybe we should consider these subjects again? The talk will focus on examples of bootlegging and the experience of talking and working with some of the people in these streets of Yangon.
​
– Functioning as publication-platform and copy-shop locale, KLD Repro represents a curiosity towards printed matter and the modalities of production. Founded in Copenhagen in 2014 by artists Kristian B. Johansson and Wilfred Wagner, KLD Repro has since been producing and publishing a variety of artists books, magazines, tapes, essays and prose. As printers, artists and in a collaborative capacity, our aim is to question the post-digital age of print-on-demand, and investigate the demands-of-print in and of itself, as something fundamental to any community subculture | → 24 NOV 6–7pm | Spazio Maiocchi
​
​
PERFORMANCE | BOOKS AS HOOKS SERIES presents
LA SCALA GINEVRA DOLCEMARE x FUZAO STUDIO
​
– The performance unfolds through a series of actions that resonate like snaps in the articulation of the imaginative impulse. Here two places of Milano - the street and the Teatro alla Scala - come together, bringing into play an optical filter that blurs the contrasts. The scenic space stands on the heaviness of the concrete and the ephemerality of the carnival. The action captures a circular narration rather than a linear one. The intertwining of mysterious objects activates projections, where the promises live.
​
– Ginevra Dolcemare was born in Milano; graduated in Sculpture at Brera Academy of Fine Arts, she began the MA in Theater and Performing Arts at IUAV, Venice 2019. In her formative path she meets among others, Gianni Caravaggio, Claudia Castellucci, Darren O'Donnell, and Alice Rohrwacher. Since every movement is a matter of morality, her research looks at the displacement of the center of gravity, between the extremes of contact and distance | @fuzaostudio | → 23–24 NOV 1–6pm • 1 hour intervals on rotation | Spazio Maiocchi
​
​
PERFORMANCE | BOOKS AS HOOKS SERIES presents
A SCIENCE FICTION STORY – STELLA SUCCI x NOBODYS
​
– The publication of the 2019 edition of NOBODYS deals with the themes of desire, self-definition, the relationship between body and space, chaos and the unconscious: these are the core themes of Nobodys - a research platform open to artists, theorists, curators and local and international organizers, aimed at sharing practices in the performing arts. There will be moments of collective action in dialogue with the practices of sharing, of spontaneous and horizontal exercise.
​
– Stella Succi is an art historian, editor and photo editor. She has written about contemporary art and culture for Alfabeta2, Mousse Magazine, Prismo, The Towner, Panorama Milano, the Pocketbook. She is part of ALTALENA and participates in Nobody's Indiscipline | → 23–24 NOV 1–6pm • 1 hour intervals on rotation | Spazio Maiocchi
​
​
PERFORMANCE | BOOKS AS HOOKS SERIES presents
EVERY ME – COSTANZA CANDELORO x ALTALENA
Book launch & reading – The spirit of the dogs is magnetic a novelette
​
– The story is set in a city with recognizably Bolognese features, and follows the actions of a series of dogs which differ in social background, size, age and lifestyle. Through some of their specific expressions, including barking or leaving smelling traces around the city, they create a network of communication, of transmission of information. The contents of these 'information traffics' aim to find a point of connection between the different social universes they belong to; they build a parallel system in which these realities cooperate: a purebred poodle can get in touch with a half-breed homeless dog creating a correspondence between the apparentely incompatible worlds of their respective owners. The background to these events are the parks of the residential areas of the city, where dogs are kept on a leash, as well as the social centers where they are left completely unattended during the holidays.
​
INCIPIT
Is there any point in learning to read when you can smell meat from far away?
​
– Costanza Candeloro, graduated in Fine Arts at Geneva School of Art and Design HEAD. She works as a writer and visual artist between Italy and Switzerland. She is the co-founder, with Mattia Capelletti, of Idioletta, a research project interested in the disclosure of borderline literature and poetry outside its institution.
Altalena is a nomadic entity dedicated to foster art practices at a slow pace | → 23–24 NOV 1–6pm • 1 hour intervals on rotation | Spazio Maiocchi
​
​
BILLBOARD | 6 x 3 BLUEBACK MANIFESTO by DAVID REINFURT NY
​
– The manifesto image creates a metaphorical bridge between the exhibition A *NEW* PROGRAM FOR GRAPHIC DESIGN DAVID REINFURT 1/2 of Dexter Sinister, 1/4 of The Serving Library, and 1/1 of O-R-G inc., hosted at O', and Spazio Maiocchi – Artifact headquarters of SPRINT Art Book Fair and the rest of the Public Program | → 23–24 NOV 1–9pm | Spazio Maiocchi
​
​
FUNDRAISING PARTY | A CHE PUNTO SIAMO DELLA NOTTE ?
CURATED by elAMOR + TOMBOYS DON'T CRY
​
–With FARA FARA by LAFAWNDAH + COVCO London – ITA PREMIÈRE ~ Dj set + elAMOR Ft. Lara Brown + Da Rocha + Guillem Jiménez, Anna Skorpen, Mar Aguiló ~ performance w/Da Rocha + TOMBOYS DON'T CRY w/Alieni~ Ashasha ~ Petra ~ Tzaziky & Crack Dj set + Ft. Sonia Brunelli/BAROKTHEGREAT dancer | → 23 NOV 11pm–05am | Time Club | 5€
​
​
RISOGRAPH WORKSHOP | THE RISO CLUB 19
GUEST EILEAN FRIIS-LUND & PIERRICK BRÉGEON CH in collaboration with
ARCHIVIO PRIMO MORONI
​
– Risograph is an eco-friendly printing method into which the chromatic attitude of silk printing meets the fast timing of photocopy reproduction and the softness of inkjet prints. It's an awesome and professional - even if cheap - solution for little editions, due to its range of possibilities going from uniform tones to crazy analog patterns. SPRINT is proud to host the yearly Risograph printing Workshop, officially opening the path towards the 7° edition, announcing a brand new collaboration involving the Archive Primo Moroni - 'Small but still impressive archive of memories, a relevant fragment of social and politic life between Sixties and Seventies, also glowing with the presence of many materials of the movements in the Eighties, shaped by cultures of the metropolitan ghetto' P.Moroni - a center of documentation existing since 1988 as an evolution of Calusca City Lights library, founded in Milano by Primo and moved into C.S.O.A. Cox18 in 1992, where the Archive is currently hosted.
​
– We will develop together a project based on a structure specifically thought to reveal tricks 'n' tips, to handle the technique both during the first phases of composition and the second ones ruled by printing, digging into materials selected from the Archive Primo Moroni.
​
– THE RISO CLUB 19 will be curated by the Swiss designer Eilean Friis-Lund with Pierrick Brégeon, coordinated by Elena Radice, artist/photographer, and supported in the printing practice by ATTO, a studio of design and communication | → 16/17 NOV | by application only through Open-Call | O' non-profit association
​
POSTER/CATALOGUE | CYNTHIA ALFONSO Vigo SP
​
– The poster/catalog of this edition is realized by Cynthia Alfonso, printed in A2 format, one color, paper 170 gr., ed. of 1000, free for the public. Cynthia Alfonso 1988 studied fine arts in Galicia, Spain. Currently, in addition to her role as author and designer, she works at RAPAPAWN animation studio in collaboration with Óscar Raña. She collaborated in different magazines, such as Real life of Snap Ink, Don't Panic or Mold magazine. Her work has been featured in anthologies such as Hoodoo Voodoo, Fosfatina; Super Towers by Vincent Fritz; NOW #4, Fantagraphics or ColdCube004, ColdCube Press. Her last solo exhibitions was The one who weeps at Cold Cube Press gallery, Seattle. Now she is working on her next project with Fosfatina publishing house entitled Junk House in addition to several exhibitions and video creations | → 22/23/24 NOV 1–9pm | O' non-profit association | → Spazio Maiocchi
Municipio 9 – Comune di Milano
Consolato Generale di Ungheria A Milano